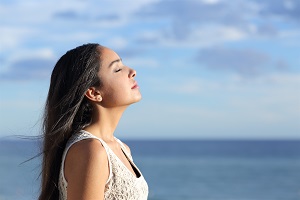 Want a better immune system and to feel peace inside your body and mind at will?
The answer is in the power of the breath. It's funny how so many people naturally use the breath as a relaxation tool. There is something to this. By simply focusing on the breath (watching mindfully the breath going in and out), keeping part of your awareness inward. You actually, with practice, bring the nervous system into the parasympathetic aspect of the autonomic nervous system. In the parasympathetic branch of the system the body can repair itself, revitalize and rest. A common response to that is; I'm too busy, how can I do my duties and relax at the same time?  Simply practice!!!
By making it a practice, the practitioner's mind over time likes the feeling of the breath awareness because it creates peace in the body and mind. With practice that awareness and peacefullness becomes a habit. When the mind is racing, busy, stressed and fearful, the practitioner's job is to acknowledge the breath and follow it with a positive thought. Let me give you an example. You're busy making supper, you have work to do later, and you have to bring your child to a sporting event in 40 minutes. At this time your mental dialogue might be "What a busy day, how can I fit it all in! I hope I'm not late."
In this instance I would take a nice breath, feel the peace within that it creates, and tell myself that I can just do the best I can. Be persistent (the best you can), as you focus on your breath until your insides, mind and body, are at peace. This usually takes no more than a minute or two. With consistent effort it becomes easier to do, and the response becomes more immediate. Training yourself to be calmly active and actively calm.
Good luck, and happy breathing!